Mesa Limousine Rental SERVICES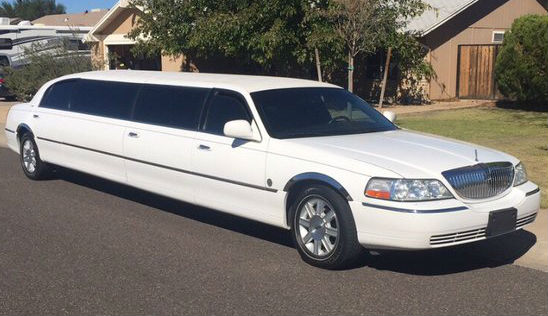 We pull out all of the stops when it comes to our highly professional and stately approach to cost effective splurges like our limousine transportation.
Though we are an Arizona company, we travel to destinations all over the Phoenix Metropolitan.  What you're in search for, we over deliver. Your event and destination is important to you, and should be important to those who will take you on your journey's end.
We offer prompt, professional and efficient customer service, with an extra kick of courtesy.
With our professional demeanor of our limousine staff, you'll feel confident in relying on our Services to take you to your destination of choice.
Our limousine fleets are given attention to detail by our cleaning staff, to ensure your ride is a comfortable one.  We pride ourselves in our Clients and Returning Clients and want to give them the 'above all' treatment they deserve.
We provide a variety of services to allow all of our Clients to experience the royal treatment our limousine service loves to offer.
The History of the Limousine
The first limousine was designed in 1902, coming from the French region of Limousin. Used for the a demonstrative look of wealth and power, this means of transportation was used by the wealthy and royalty.
The initial design was so that the driver sat outside under a cover.  Near and around 1928, the stretch limousine was created to host big bands traveling to perform at various locations.
Modern uses for the limousine have been for various events and occasions.  It is no longer for the rich and famous.  Limousines capture the eye for anyone who wants to add that special touch to that special event.
When do you need to rent a Limousine?
We are able to provide a variety of services to our clients. We are no run of the mill limo service. We are geographically savvy and professional.
Our variety of services are streamline and stay classy.  What is your next event?
Wedding Proposal: Are you considering popping the question?  Why not add to the romance and happy suspense by rolling out the red carpet for your future fiancee'.
Weddings:  Treat yourselves, wedding party and wedding guests to front door service to your wedding venue.  Choose from our selection of plush limousines or state of the art party buses.
Bachelor Parties: Wish your best guy off into wedded bliss by hosting a worry free bachelor party with limo transportation that can't be beat.
Bachelorette Party:  Have a memorable girls only event, that is exciting and fun before the wedding jitters settle in the bride – to – be.  Our worry free transportation will be the needed fun that all your guest can enjoy from one party destination to another.
Anniversaries:  Celebrate another year with your spouse by keeping the romance alive.  Plan your special celebration in whimsical and royal style in a limousine that offers that spark of fireworks you need on your anniversary day.
High School Formal Dances: Whether it prom or homecoming, get all your best friends together and arrive as the best dressed to your next school dance.
Airport Shuttle Service:  Get to the airport terminal stress free in our limousine and town car shuttle service that is comfortable, sleek and wi- fi accessible.
Cooperate and Executive Transportation Services: Impress your clients and top business partners with limousine transportation to all the scheduled meetings on their in town business trip.
Sporting Events: Support your Arizona top teams by attending one of the local games in game ready style.  Our party buses offer game access as you cheer on and ride in comfort.
Dining in Style: Make it date to remember. Increase the romance just a notch by setting the mood in one of romantic limousines.  It will be a smooth move on your part with our smooth ride.
Top Ways to Make Use of our
Limo Services
You'll find a number of recommendations, such as:
Romantic Venues
Sporting Venues
Getaway Locations
Entertainment Ideas
Selected Airports
Wedding Venues
Restaurants
Hotels and Resorts
We offer limo service throughout all of Phoenix Metro
Phoenix, AZ.
Scottsdale, AZ.
Paradise Valley, AZ.
Fountain Hills, AZ.
Awahtukee, AZ.
Laveen, AZ.
Glendale, AZ.
Tempe, AZ.
Chandler, AZ.
Gilbert, AZ.
Mesa, AZ.
Queen Creek, AZ.